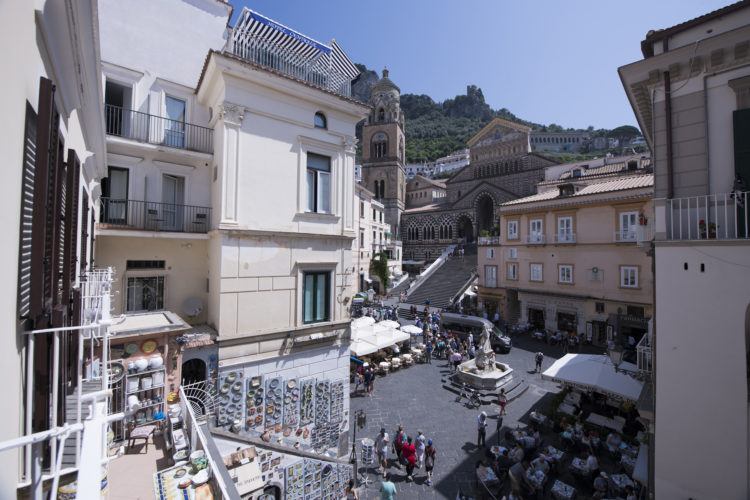 La Bambagina is an elegant Bed and Breakfast overlooking the Duomo and the Piazza di Amalfi.
Born from the renovation of the historic home of the last great Amalfi paper, Cavalier Nicola Milano, to whom we owe the merit of safeguarding and promoting the traditional workmanship of the wonderful handmade paper of Amalfi and the name of our structure is a tribute to his precious work. In fact, Bambagina is the pasta from which the particular Amalfi paper is obtained. It is made through the maceration and processing of rags of linen, cotton and hemp.
Your window on Amalfi Life
One of the strengths of the B&B is undoubtedly its position overlooking the beautiful Piazza di Amalfi and its windows you can enjoy a picturesque view of the Cathedral, with its majestic staircase and the Arab-Norman facade. The goal is to offer guests a typically Amalfi experience and a professional and friendly welcome. Precisely for this reason we imagined the atmosphere of a stay in an environment where you just have to open the window to be in the heart of Amalfi.
La Bambagina offers 4 rooms furnished with attention to every detail to ensure an absolutely perfect holiday. The rooms have a size between 18 and 23 square meters and are all equipped with: air conditioning, private bathroom with tiled walk-in shower with colored Pecchioli ceramics, satellite TV, minibar, kettle and tea set, hairdryer, set courtesy of Argan, slippers, shoehorn. They also boast refined décor, from marble floors and wall coverings to beds with luxurious fabrics. Each room also has an electronic safe with code and a small area with a small table and armchairs.
Hospitality is a pleasure in Amalfi
The reception service is available from 8:30 am to 8:30 pm, while the employees will be at the complete disposal of the customer by phone. Our goal is to be close to you during your stay and we recommend the best destinations to fully experience the places, tastes and experiences of our land.
La Bambagina also offers you a completely free baggage transport service, from the arrival point to your room and open from 8:30 am to 7:30 pm.
For guests arriving by car parking is available, below the rates applied, with a valet that will collect and return your vehicle:
From 10 January to February €25.00
From March to June € 30.00
From July to September €35.00
From October to January 9 € 30.00
Soon will be available for all our guests the equipped terrace that covers the entire structure and that will allow you to enjoy unforgettable moments of relaxation.
Breakfast (additional service) with typical sweet and savory products will be served at the Bistro F.lli Pansa, with tables overlooking the Duomo.